What's Yosegi-Zaiku?
The Hakone mountain range boasts some of Japan's finest tree species. Hakone-Yosegi-Zaiku is a technique that utilizes the natural colors of the various trees and gathers them together to create elaborate geometric patterns.
"Yosegi-Zaiku(寄木細工)" is a craft that is made by gathering trees together.
The Appeal
Hakone-Yosegi-Zaiku is based on a pattern made by combining pieces of wood with various colors and textures. This is called "Taneita". It takes many years of experience and skill to make the pieces of wood, from the angle at which the wood is cut, the accuracy of the dimensions, the gluing techniques, and the tools used to make them. There are two techniques used in Hakone-Yosegi-Zaiku.
(1) Zuku-Bari: A thinly shaved (0.15-0.2 mm) sheet of wood is applied to a small box as a decorative material. Works produced from Zuku-Bari are called "Zuku-Mono".
(2) Muku-Zukuri: A method in which "Taneita" itself is hollowed out with a potter's wheel for processing. Works produced from Muku-Zukuri are called "Muku-Mono".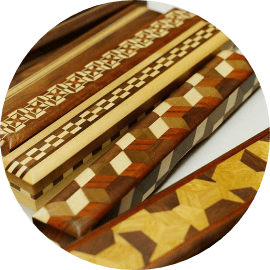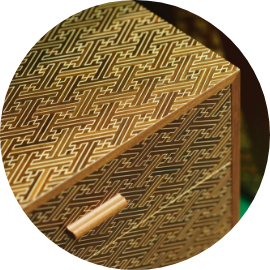 Color and Grain
Wood from the Hakone mountain range was once the main source of material for this craft, but since it became a national park, it is no longer allowed to cut down a large number of trees.
Instead, craftsmen search and purchase high-quality wood from various regions in Japan, a mountainous country that is more than 70% covered by forests. Unique wood from abroad with attractive colors or textures is also sometimes used.
Each type of wood has a different color and grain. Therefore, the species of wood used in each craft or project is selected based on the unique characteristics of that specific wood.
| | |
| --- | --- |
| White | Cornus, Ilex, Mochi tree, Japanese Linden |
| Black | Katsura jindai, Chesnut, Falcata |
| Gray | Magnolia, Haohada-no-shimi, Rosa |
| Light Brown | Sophora, Chinese apricot, Japanese apricot, Japanese mulberry, Japanese smoked oak |
| Red | Rengath, Padouk |
| Yellow | Linden, Picrasma Wood, Varnish Tree, Mulberry |
| Green | Black Locust Tree, Magnolia |
| Brown | Falcata, Walnut |
| Light Yellow | Himalayan Spindle, Picrasma Wood |
Pattern and Color
Taneita is made of wood used as a material to make the patterned parts of the Yosegi-Zaiku. The large blocks of Yosegi-Zaiku are made from individual pieces of wood of different geometric shapes, colors, and grains. By pasting these small pieces of wood together small blocks of Yosegi-Zaiku are made. These smaller blocks can also be combined to make larger blocks.
There are about 60 different traditional patterns created from these blocks. It is said that there are as many as 100 or 200 different patterns when the colors and arrangements are changed. Typical patterns include "Rokkaku-Asanoha", "Saya-Gata", "Seigaiha", "Shippou-Yabane" and "Uroko-Monnyou".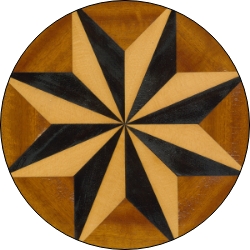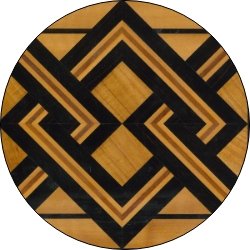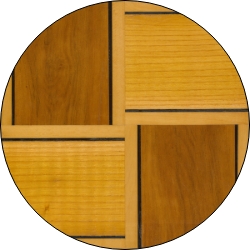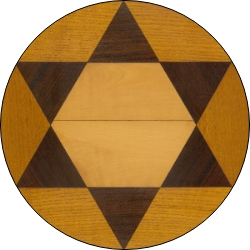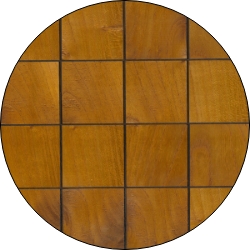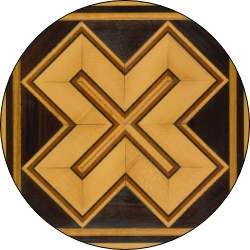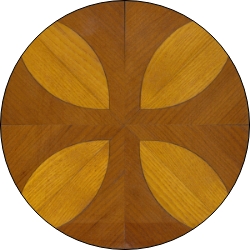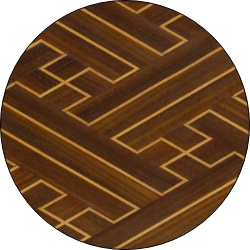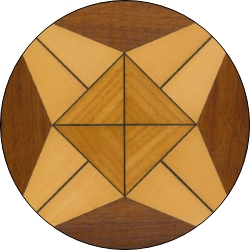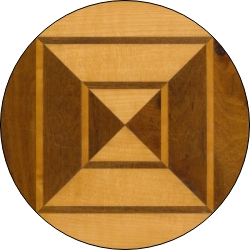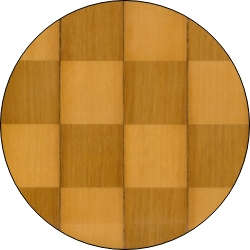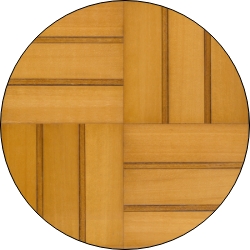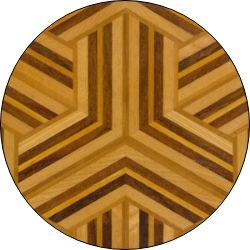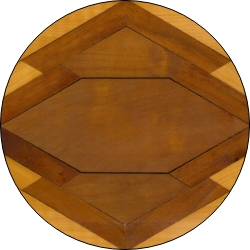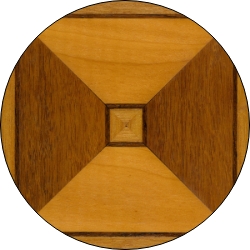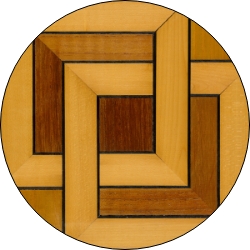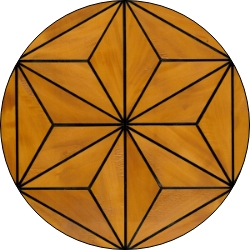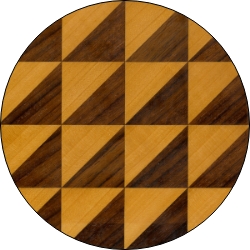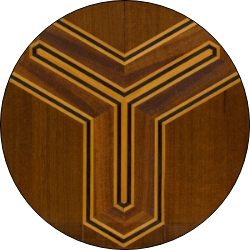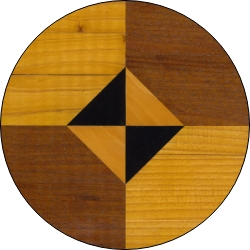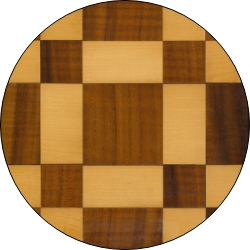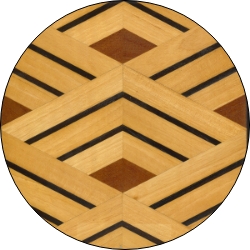 Products and Types
Hakone-Zaiku is divided into two types: "Hiki-Mono" and "Sashi-Mono."
"Hiki-Mono" are made using a potter's wheel allowing the craftsman to carve out or hollow out the large bricks of designed wood patterns. This method is used to create trays, bowls, and round tables.
"Sashi-Mono" is mainly used for the outer decoration of boxes, the surfaces of which are decorated with Yosegi-Zaiku and Zogan-Zaiku. The pattern is applied by slicing thin sheets of the wood design from the larger block of designed wood patterns.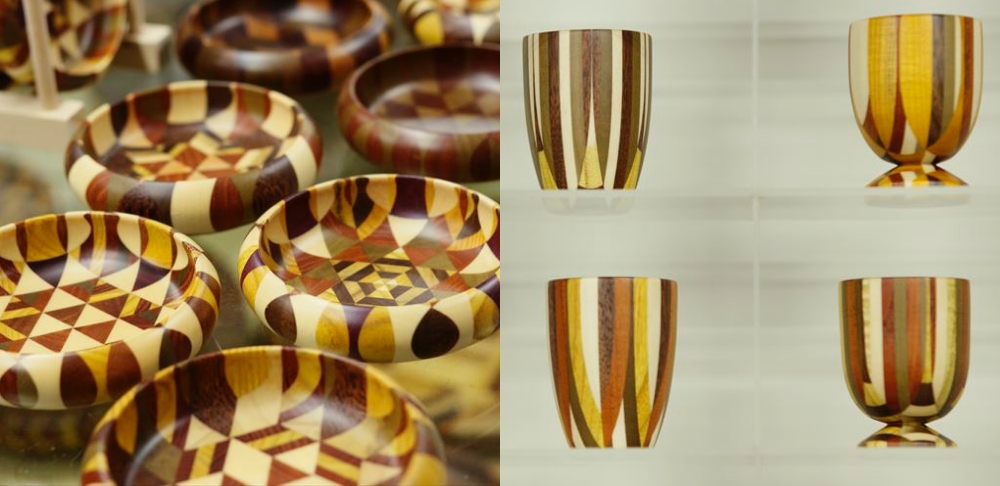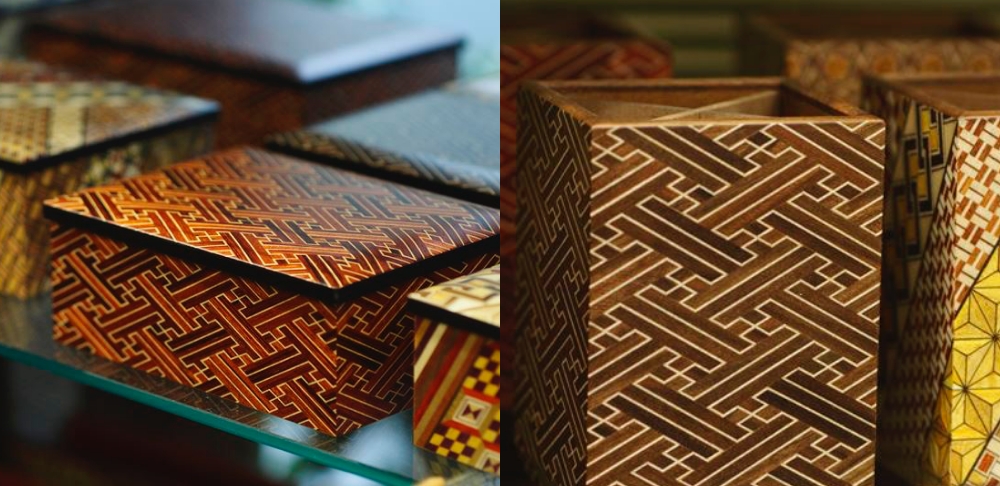 How Hakone-Zaiku is Made
Zuku Technique
This technique is based on creating a block made of various types of natural wood of different colors to make intricate geometric patterns and shapes. This designed block is called a Taneita (a block made of various types of natural wood). The Taneita are then thinly shaved into sheets of 0.15 to 0.2 mm using a special planer.
These sheets are then attached to small boxes and other objects as a decorative outer layer.
This technique is the origin of Hakone-Yosegi-Zaiku.
Muku Technique
This technique uses wood of different natural colors and textures to create large blocks of patterned wood. The thick designed wood blocks called Taneita are then used in different ways.
The blocks can be cut into pieces and assembled into products such as hanging wall racks, bookcases, and shelves. The Taneita can also be carved out to make confectionery containers, trays, tea caddies, and drinking cups.
The trophy presented to the winning team of the Hakone Ekiden (a collegiate relay marathon race run between Tokyo and Hakone over two days) is also made using this technique.
Mokuzougan Technique
This is a technique of "inlaying" wood of different colors and textures into paintings, landscapes, figures, etc. The main techniques can be broadly divided into the following two categories.
"Hikinuki Zogan," in which a place for the wood is created using a wire saw and then inlaid with wood of a different texture or color.
"Kasane Zogan," in which two pieces are simultaneously drawn, cut, and fitted using a wire saw machine.